In the summer of 1971, after my sophomore year in college, my friend Michael Morrissey and I went to Europe. We couldn't afford to travel for three months on the paltry savings from our student work-study incomes, but we determined that we could pull it off if we stayed put and worked somewhere for one month. Together in the university library one night, we poured through books of photographs of European countries. Which one would we choose to settle down in? We'd decide purely on the basis of an instinctive reaction to glossy images. We quickly agreed: Norway. No place else looked remotely like Norway. It was incomparable.
Through an international student employment agency, we both arranged to work on a family farm for a month. Room and board were included. The pay would be one dollar a day. The math worked, and so did the vibes. A possible glitch was that we'd be working on different farms, more than a few hours away from each other by ferry and bus, so we'd be separated for a month. But that might be good. We'd get to take a break from each other, become more self-sufficient. A happy reunion after a month apart would set us up well for the long hitchhike to Paris, the next stop on our summer's itinerary.
I was placed with the family of Leif Hjelmevold, who owned a small farm in Ulvik, on the Hardangerfjord. Leif and his wife Johanna had two children, daughter Arnfrid, 15, and son Daniel, 11. Leif had been ill and was slow recovering.  With his wife tending the two dozen milk cows and maintaining the household, they had prevailed upon their grown nephew, Geir Hydle, to work the farm for the summer with someone they would hire through a work agency. The someone was me. A blessing!
The events of that month on the Hjelmevold farm, of the month in Paris, and of all the stops and starts along the way will be told at another time. I mention this episode here because of the Norwegian legend that sits atop this blog: Kven spør etter leidi når ein har slik vind! The author is the poet Olav V. Hauge, the Poet of Ulvik. In English, the poem from which this line is drawn is "You Were the Wind." Here it is Norwegian, followed by an English translation by Robert Bly, as found in The Dream We Carry: Selected and Last Poems of Olav H. Hauge, translated by Robert Bly and Robert Hedin:
Du var vinden
Eg er ein båt
utan vind.
Du var vinden.
Var det den leidi eg skulde?
Kven spør etter leidi
når ein har slik vind!
You Were the Wind
I am a boat
without wind.
You were the wind.
Was that the direction I wanted to go?
Who cares about directions
with a wind like that!
So I will change the name of my blog from "Kven spør etter leidi når ein har slik vind!" to "Who cares about directions with a wind like that!" Should we care about our direction? Who cares about directions with a wind like that! I shall savor the wind.
We worked Monday through Friday and until noon on Saturday for the thirty days I worked on the Hjelmvold farm in Norway. On my first Saturday, after lunch, Geir led me down the winding road in the direction of the town waterfront center, not much more than a hotel, a grocery store, a few small shops, and a church. We passed by a cut off the road, a driveway winding upward.
"The Poet lives here," Geir said.
"Who?"
"The Poet of Ulvik," he said. "Olav isn't home today."
Here is Hague reading "Du var vinden" and three other poems, with images of his wife Bodil Cappelen, the Hardangerfjord, and the Ulvik mountainside: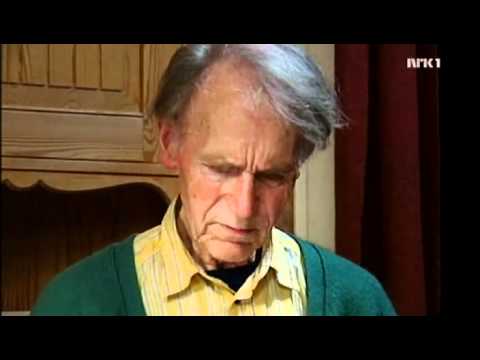 The other three poems he reads here are "Elvane møtest," "Det er den draumen," and "Katten." "Det er den draumen" (This Is the Dream) is extraordinary. The repetition of "at" and "opna seg" create an atmosphere of ritual and tension as powerful and unstoppable as a retreating tide. Here it is in Norwegian and in Robert Bly's translation:
Det er den draumen
Det er den draumen
Det er den draumen me ber på
at noko vidunderlig skal skje,
at det må skje –
at tidi skal opna seg,
at hjarta skal opna seg,
at dører skal opna seg,
at kjeldor skal springa –
at draumen skal opna seg,
at me ei morgonstund skal glida inn
på ein våg me ikkje har visst um.
This Is the Dream
This is the dream we carry through the world
that something fantastic will happen
that it has to happen
that time will open by itself
that doors shall open by themselves
that the heart will find itself open
that mountain springs will jump up
that the dream will open by itself
that we one early morning
will slip into a harbor
that we have never known.
Finally, here is a look at Hauge reading at a festival in Haugesund, Norway, in 1972, just a few months after my stay in Ulvik. He is visibly heartened by the warm reception!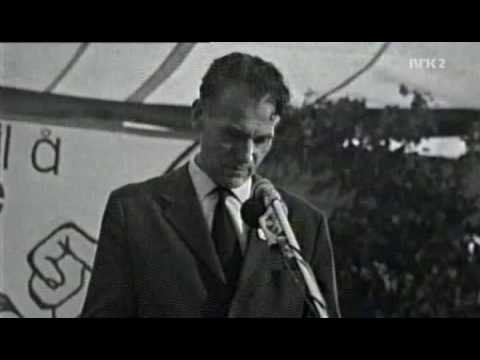 Thank you, Olav! Thank you, Ulvik!