As Thursday's and Friday's snowfall melted away last night, a network of trails was revealed on our front lawn, the remnant of tunnels in the snowpack. Curious.
Most likely a mouse. Hardy creatures, and admirably persistent, but unwitting carriers of ticks, and so best fated to the gizzards of predators. I welcome the more frequent visits of the Great Horned Owl in our neighborhood. We heard one's distinctive hoot at dusk yesterday, a sound warm, relaxed, and meditative. The sight of the snow trails put me in mind of other mouse experiences. Living in a suburban neighborhood, not far from Potter Wood, mouse, mole, vole, and chipmunk visits are regular occurrences. I must say, my reaction to rodents was pretty much carved in stone after reading Orwell's 1984. I'll spare the reader a link to the novel's text or the relevant clip from the motion picture, with John Hurt and Richard Burton. But permit me to note that in popping "Room 101" in Google, I learned that it is "Northeast Indiana's Hottest Under-21 Dance Club." Of course it is. I also learned (possibly apocryphally) that Orwell named the place for a room in the BBC Broadcasting House in which he had endured painfully dull meetings. A quick aside: The artist Rachel Whiteread "cast the entire void of the room" in plaster before it was demolished in a building renovation. The piece is called Untitled (Room 101). It was displayed at the Victoria & Albert Museum, in London, in 2004. In an interview that year, Whiteread said that the room had been Orwell's office, so who knows.
Our 2001 Camry, the four-cylinder chariot that brought us coast-to-coast in September-October 2009, was last month visited by a mouse, who got into the air-filter housing and chewed the paper element of the filter within into a comfortable nest, thereby choking the air intake and making ignition problematic. It never occurred to me to check the filter; fortunately, it occurred to the ingenious mechanic we have partnered with since 1972. But I should have known that this was possible. After all, here is a mouse house I found under the engine cover of our 2007 Mazda 3, in December, 2011:
A prodigious amount of nesting material! A more rustic alternative is seen here, in our woodpile, in January, 2011:
Then, of course, the brain sets to work involuntarily, recalling mouse adventures in literature and in real life, wondrous fun when our two children were still children. I had left both a side door and screen door door open one summer day, as I went out to do a quick something on our unenclosed porch. Liz, about 13, saw a wee mouse jump up on the step and peer into the house. "Nick!" she cried to her 10-year-old brother. "A mouse!" As Nick bounded down from his upstairs bedroom, the mouse jumped inside and scampered to the living room, hiding behind the couch. The two of them chased the little creature all around the first floor and down the stairs into the basement, where Liz trapped it in a corner. She gently guided the mouse into a Mason jar and released it in a nearby wooded lot.
Skip now to younger versions of themselves, as we read aloud Grimm's terrifying Hansel and Gretel: "Nibble, nibble, mousekin. Who's that nibbling at my housekin?"
Engelbert Humperdinck's opera Hansel and Gretel is absolutely beautiful, no more so than at the close of Act 2, Scene ii, when the children sing their evening prayer before falling asleep in the forest.  Adelheid Wette, Humperdinck's sister, wrote the libretto.
Abends, will ich schlafen gehn,
Vierzehn Engel um mich stehn:
Zwei zu meinen Häupten,
Zwei zu meinen Füßen,
Zwei zu meiner Rechten,
Zwei zu meiner Linken,
Zweie, die mich decken,
Zweie, die mich wecken,
Zweie, die mich weisen,
Zu Himmels-Paradeisen
Evenings, when I go to sleep,
Fourteen angels with me keep,
Two stand at my head,
Two at the foot of my bed,
Two are at my right hand,
Two are at my left hand,
Two in covers tuck me,
Two at morning wake me,
Two that point the way to rise
To heaven's paradise.
Here's a lovely performance, by Kathleen Battle and Frederika von Stade, both exquisite. The performance is from A Carnegie Hall Christmas Concert, recorded December 8, 1991, with the Orchestra of St. Luke's, conducted by Andre Previn.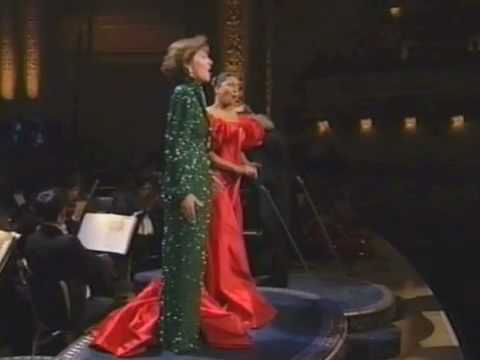 Appropriately, here's how the Brothers Grimm end their story: "My tale is done. There runs a mouse! Whosoever catches it, may make himself a big fur cap out of it."